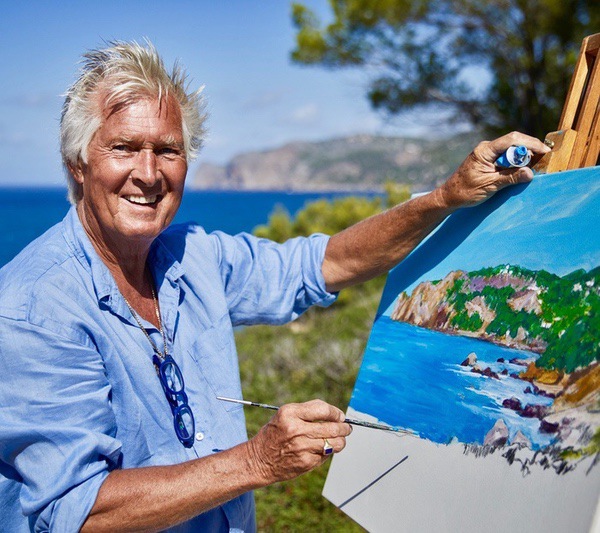 For the past 23 years Alan has lived and worked in Mallorca, and has gathered much of his creative inspiration from the island. The location of the studio and house is the beautiful village of Deia, on the West coast overlooking the Mediterranean. The house sits on the side of the mountain range the Serra de Tramuntana, listed World Heritage status (by UNESCO) as an area of 'Great physical and cultural significance'.

Alan discovered the location by chance when a friend and art collector invited him over to the island. Alan was painting Robert's portrait in the UK when Robert mentioned that he had a house on the island, and "Would he like to see Mallorca for the first time?" Alan quickly accepted the generous offer to stay in the north of the island.

A quick guided tour of the island revealed the West Coast and Deia, and also an introduction to a house overlooking the sea. "It was a spur of the moment decision" said Alan "I fell in love with the totally incredible location and decided to buy the house .. just like that!" "It was, without any doubt, a life changing decision!"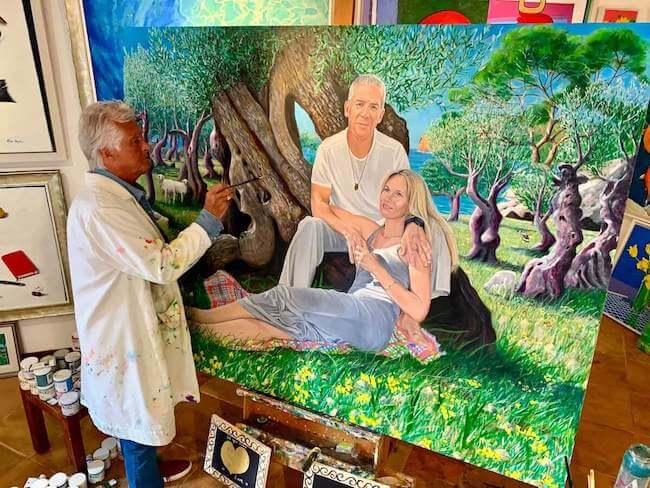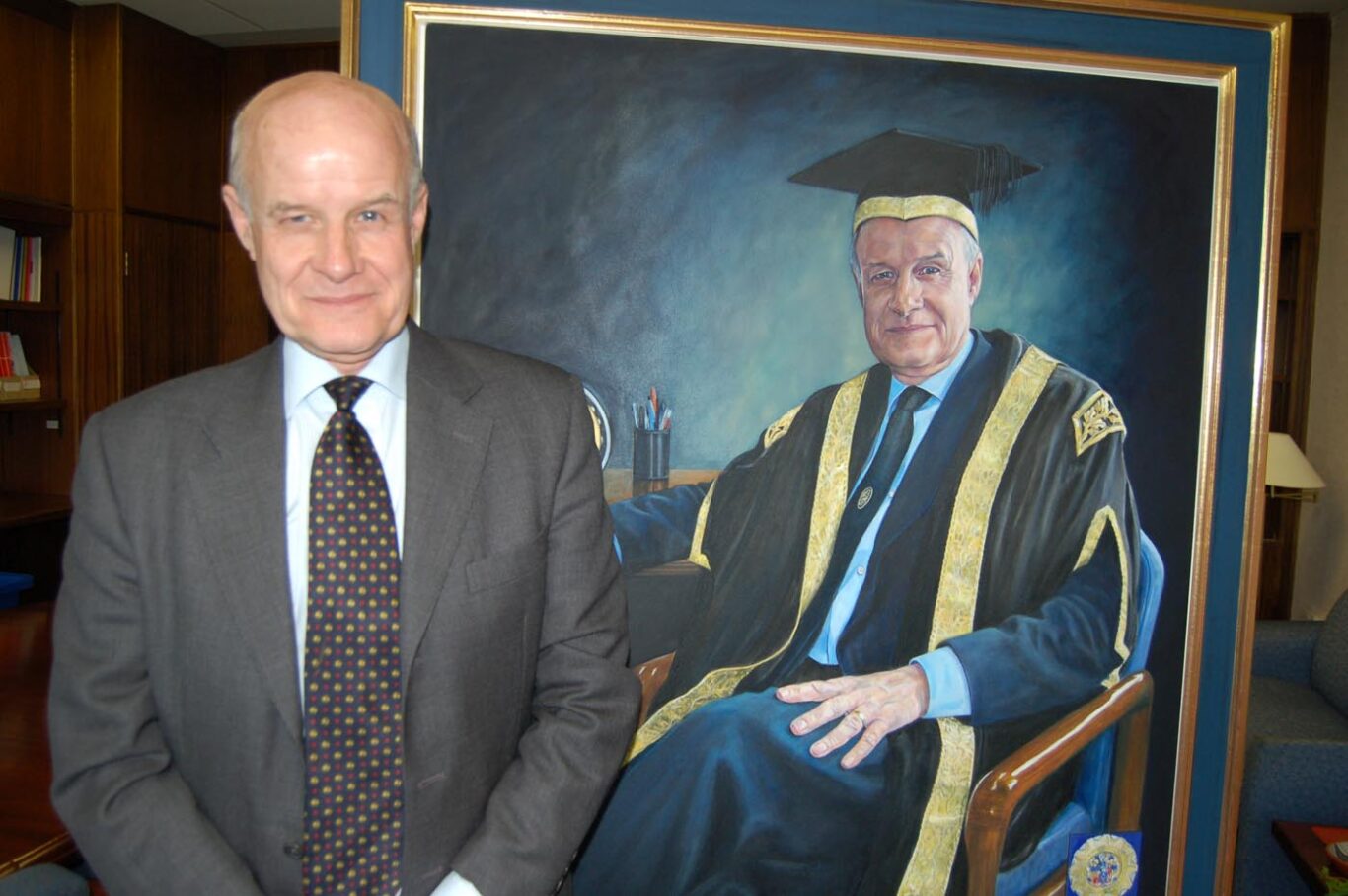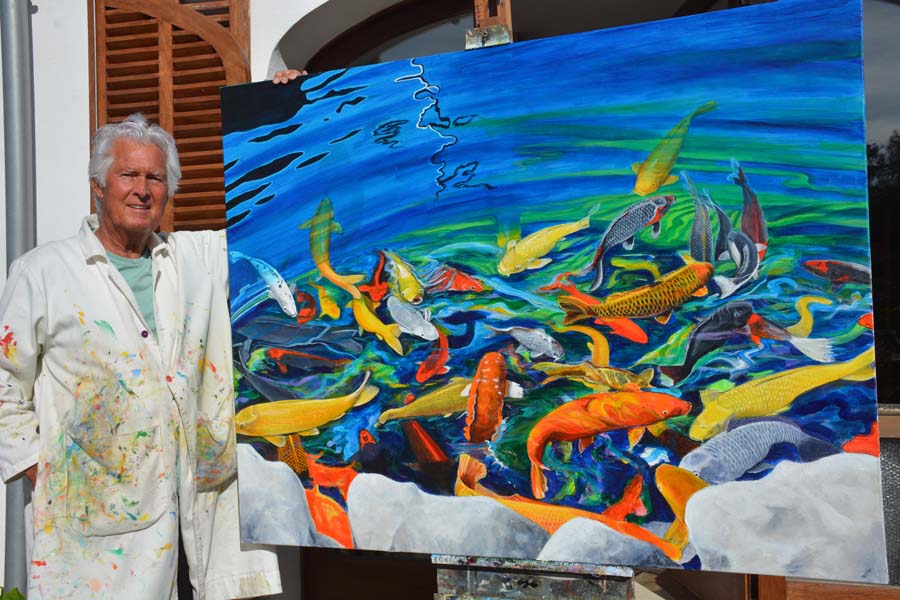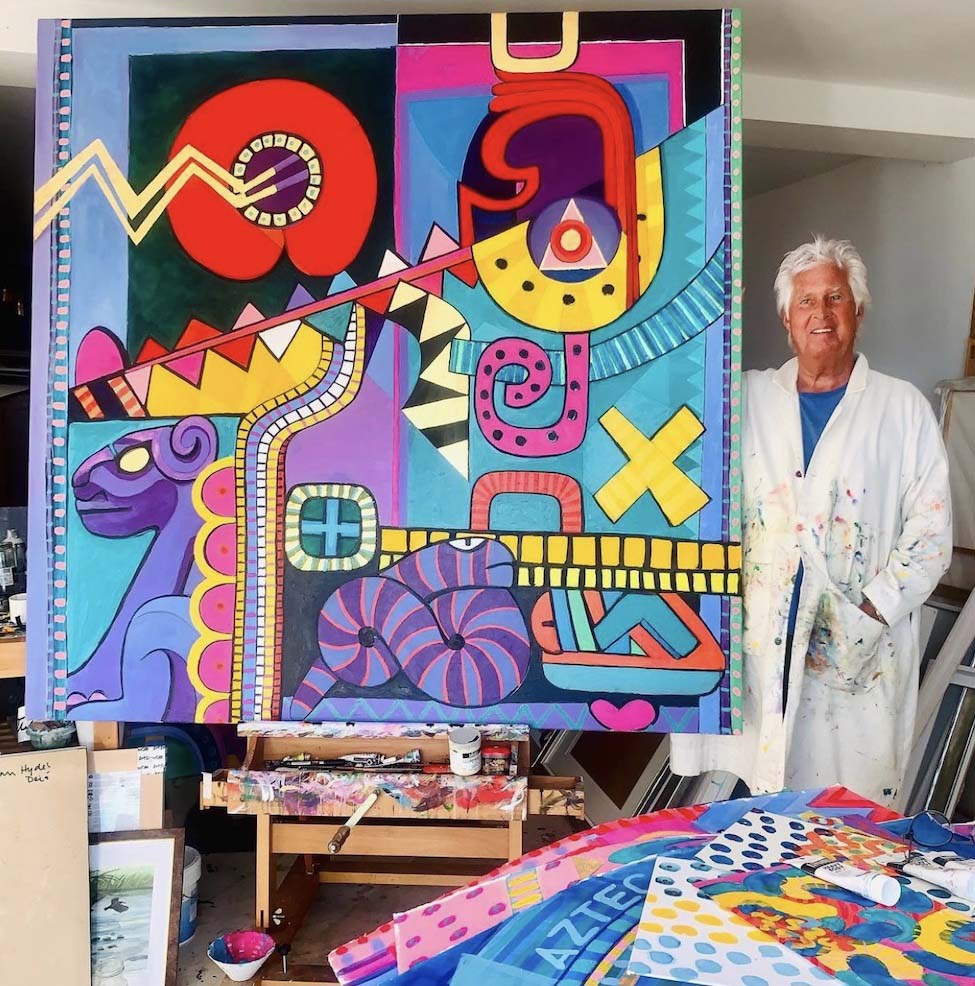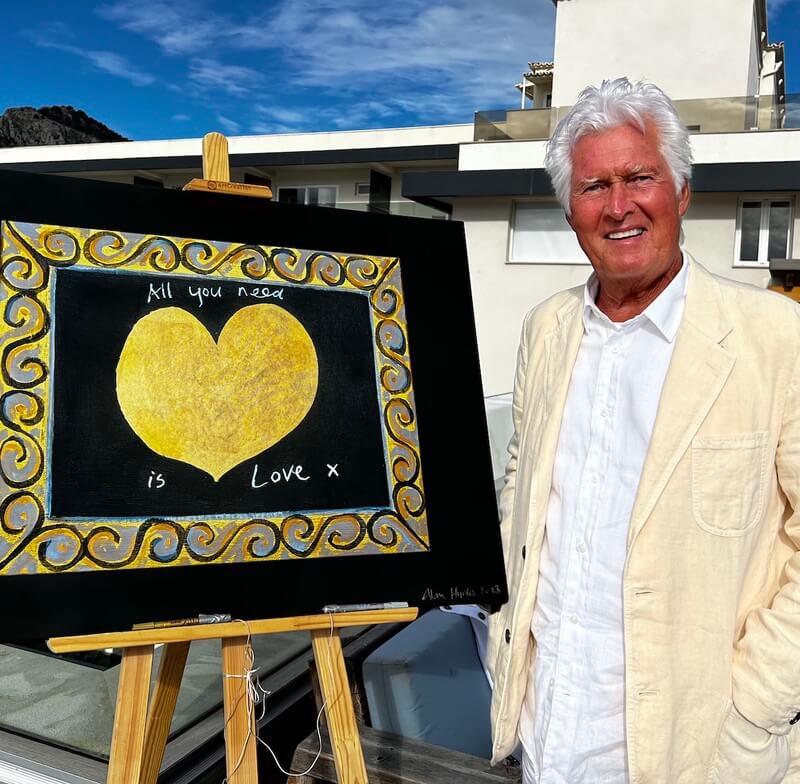 To begin with Alan visited the house regularly from his home in Leeds in the UK, to paint and draw and to simply explore the marvellous surrounds, which included groves of ancient olive trees, carob trees, pines and a magnificent rocky coastline with hidden bays and coves.
Once the house had planning permission to expand and create an integral painting studio Alan moved out to the island full-time.

He was working on paintings featuring the terraces of olives, seascapes and swimming girls, exhibiting his work in the local Art gallery 'Galeria Sa Tafona' based in the luxury 5 Star hotel La Residencia. He quickly became recognised within the strong artistic community of the village and settled in to life on the island.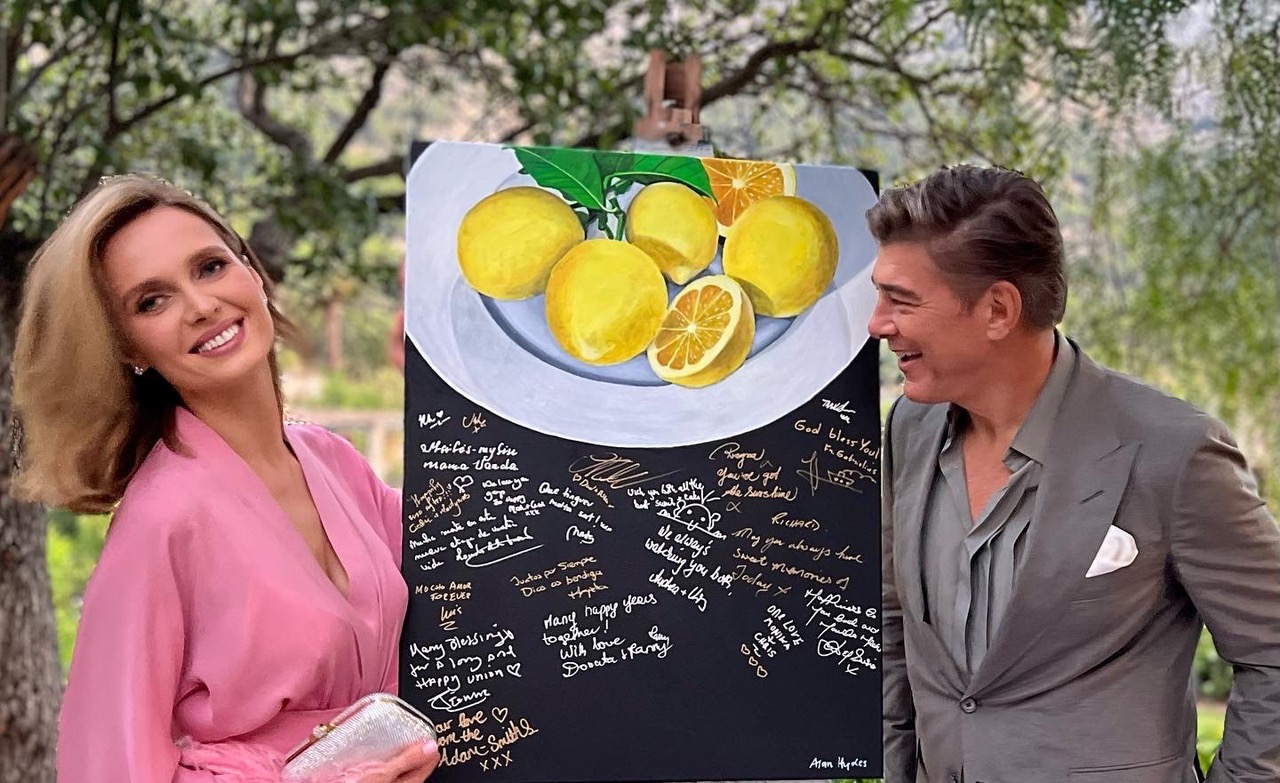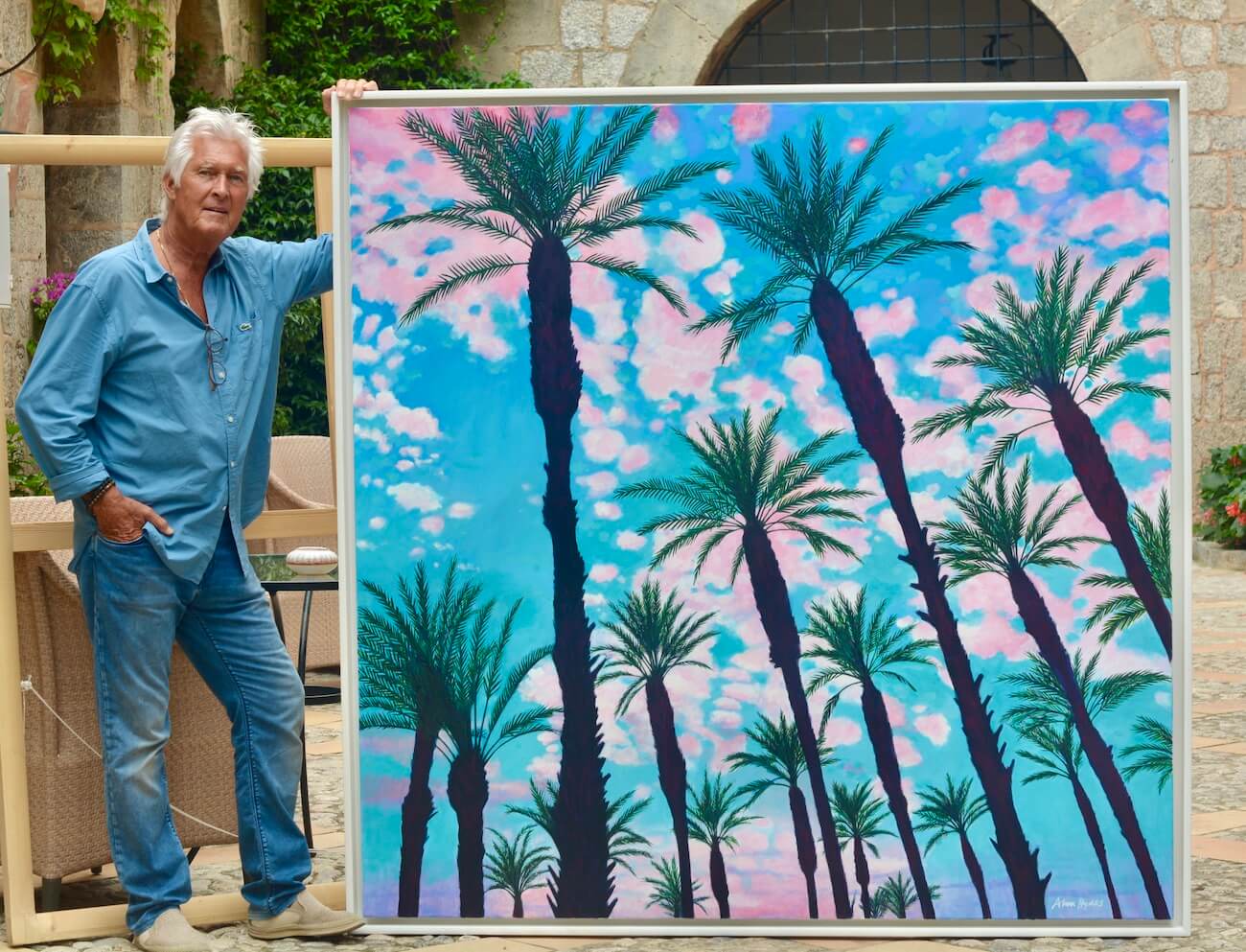 Before too long the new manager of La Residencia, Sven Gevers, recognised his talents and approached him to become 'The Artist in Residence' for the hotel, a newly created role.
Alan accepted without hesitation, the post came with a big painting studio with lots of light, accommodation in the hotel, and food! "It was a dream location for any artist as it was also a focal point for the hotel - adding lots of colour and a very strong artistic statement to what was already a wonderful 5 Star hotel " said Alan.

An internationally established and recognised painter, Alan had previously been a tutor on Bachelor of Arts degree courses and had fronted his own networked television programmes in the UK featuring portraiture, botanical painting and landscapes, with many of the UK guests knowing him from Television. Alan was more than qualified to develop the role of 'Artist in Residence' for the hotel and highly qualified to teach 'masterclasses' for the guests.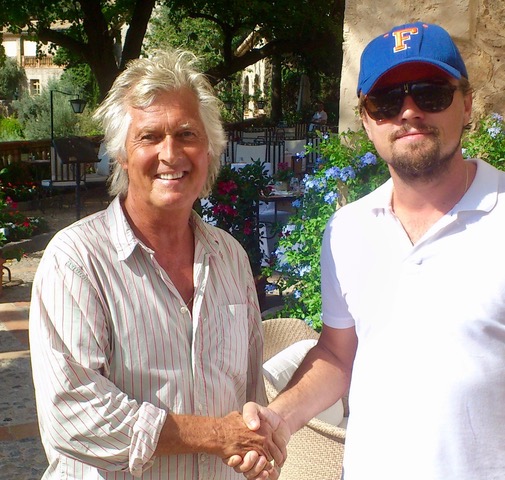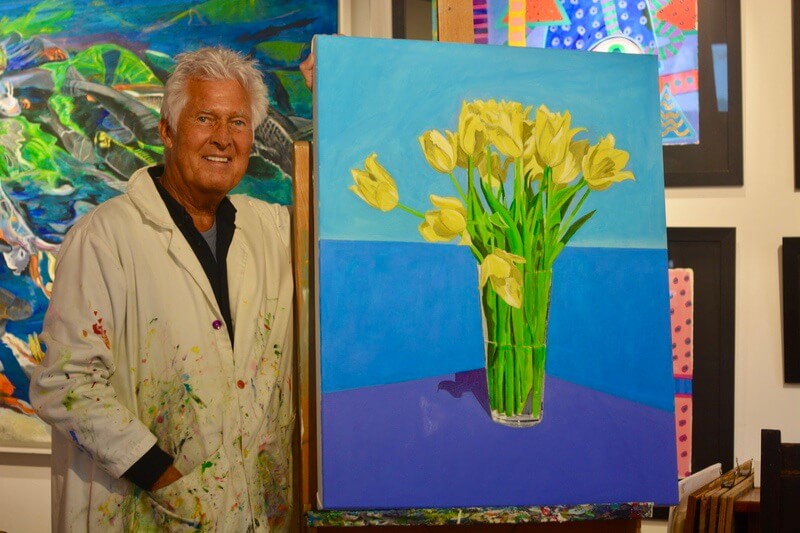 Once establish within La residencia he worked alongside management and became involved with projects such as special 'Arts dinners' in the hotel's famous restaurant El Olivo. Painting huge canvases that diners could work on. Famous celebrities attended and worked alongside Alan developing the paintings. These events even featured in glossy magazines in Europe to promote the hotel.
He also added colour and a touch of fun to the vehicles the hotel used, by painting Mediterranean fruit on them in permanent car enamels. This work even extended to painting the scooters the hotel rented out to guests.

As the studio in the hotel became more well known it became an intrinsic part of the philosophy of the hotel offering guests 'an arts experience' rather than just a holiday in a stunning hotel in a beautiful Mallorcan village. The hard work of both management and Alan's presence in the hotel established something unique and the directors of the company who owned the hotel visited Alan to thank him and talk to him about the direction the hotel was taking in terms of an 'Arts Experience.'